Persoonlijke Review
Merk:
BPI Sports
Type:
Pre-workout
Dosering:
1 tot 2 scheppen (1 is normaal meeeer dan genoeg)
Gebruik:
20 minuten voor de training
Inhoud:
224 gram, wat overeen komt met 28 dosering van 1 schepje. Met 1 schep kom je ook echt wel toe.
Prijs:
ongeveer 40 euro, afhankelijk van waar je het haalt.
Smaak:
Ik heb de fruit punch gebruikt, en behalve de iets of wat medicijn achtige geur/smaak is deze best wel lekker.
Mixbaarheid:
zeer goed mixbaar, lost direct op. Wel moet je af en toe eens terug roeren of shaken omdat er wel een neerslag is als je het even laat staan.
Werking:
Super drive! 1MR geeft je niet de pomp die je krijgt van, laten we zeggen, Supercharge, maar heet geeft je wel een vol gevoel. Zelf heb ik de 1MR gekozen tijdens onze bench press dag, en je focus en motivatie zijn gewoon super!
Opmerkingen:
224gr lijkt niet veel, en de pot zit ook niet echt vol, dus het lijkt echt wel weining, maar de werking spreekt voor zich. Je hebt geen grote hoeveelheid poeder nodig voor een goed product te krijgen en ik ga zeker nog van deze super geconcentreerde producten kopen. Alleen moet je opletten omdat er creatine in zit, als je net van een creatine kuur afkomt kun je best een ander product zoeken.
Totaal:
Een 9,75/10 voor de focus en drive, zeker verdient door de kleine hoeveelheid dat je maar nodig hebt en een 7/10 voor de pomp, dus in totaal een mooi verdiende 8,4/10
Meer info:
http://store.bpisports.net/products/1mr
Product details:
224 Grams
Fruit Punch
Serving Size:8Grams(1scoop)
Servings Per Bottle:28
Amount Per Serving
% Daily Value
Calories
6
Total Carbohydrates
1.5g
<1%†
Sugars
0g
*
Thiamin
135mg
9,000%
(Vitamin B1, As Thiamine Disulfide)
Niacin
25mg
125%
(As Nicotinic Acid)
Pre-Workout 1MR™ Energy And Pump Matrix (Proprietary)
5,558mg
*
L-Arginine Alpha Ketoglutarate, Beta-Alanine, L-Taurine, Creatine (As Creatine Monohydrate), N-Acetyl-L-Tyrosine, Caffeine (As Caffeine Anhydrous), Citrus Sinensis (Whole Plant), Kigelia Africana (Bark), Paullinia Cupana (Seed), Yerba Mate (Leaf), Adhatoda Vasica (Leaf), Schisandra Chinensis (Whole Fruit), Visnea Mocanera (Leaf), Vitis Vinifera (Seed)
† Percent Daily Values are based on a 2,000 calorie diet.
* Daily Value not established.
Other Ingredients:
Maltodextrin, Natural And Artificial Flavors, Citric Acid, Sucralose, Silica, Acesulfame-K, FD&C Red No. 40, Vitamin C (As Ascorbic Acid).
Beschrijving van BPI zelf:
1MR™ is the original Ultra Concentrated and Extra Strength pre-workout powder. In each small scoop is a heavily concentrated, mind-blowing dose of Energy and Strength that will knock you into the best workout of your life!* 1MR™ delivers a non-stop dose of blood pumping vascularity for a constant feeding frenzy of muscle building nutrients.* There is no bloating, no cramping just pure muscle.* With 1MR™ you are locked and loaded. Your body and mind are going 120 miles per hour with no other cars on the road. Every workout is your hardest. Every workout is your best.*
1MR™ stands for "One More Rep" and that is what separates you from everyone else. It's not just a name, it's a way of life. It's what you chant between sets or when you're digging deep down for the strength to hit that one extra rep. It's what makes every muscle stronger and every rep shorter. This is a non-stop energy driven formula.* It will get you to the gym faster, make your workouts shorter, and ultimately make you the architect of your own reflection. Just maybe you have what it takes. Go ahead make everyone stare.
There are other pre-workout products that talk about "endurance," "recovery" and "fighting soreness." That sounds like a product for one of those skinny long-distance runners. Forget that! Do you want to jog around the track all day or do you want to hit the gym at 200 MPH and tear through your workout like an animal?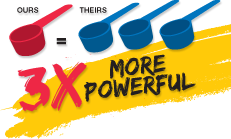 1MR™ contains an extremely concentrated dose of CNS Stimulants, Nitric Oxide Agonists (The PUMP), and Muscle Building Agents measured to support a great athletic response—without unnecessary ingredients that do little but waste your money and your workout.* Let me explain…
What if one more rep was worth more than every rep that came before? That's what 1MR™ is—1 MORE REP! The rep of a lifetime…the workout that pushes you over the top, makes you and your workouts a beast…pushes you to and beyond the threshold…in other words, what if there was an Ultra Concentrated Extra Strength Pre-Workout formula that was designed in such a way that your body and mind connected perfectly – assuring that every workout may be one of the sickest workouts of your life…a break the sound barrier, breakneck pace workout…a workout that makes everyone else in the gym take notice and wonder, "what's that dude using?!"*
Well, in the past year you have witnessed the phenomenon. Ask around and you will find that 1MR™ has taken over. It's your turn. Get 1 MORE REP…for every workout!

1MR™ requires that you mix one serving of one of the most powerful training powders on the planet with 4-6 ounces of water. That's it. Combine that with one of the best freakin' tastes anywhere and now you have 1MR™.
Bottom Line:
1MR™ hits you fast.*
1MR™ is currently being used by Pro Athletes and Everyday Jane's and Joe's everywhere.
1MR™ is mixed in a 4-6oz shot glass or cup. No more having to down huge glasses of revolting crap.
1MR™ is designed to help you experience one of the best workouts of your life.* While other companies are busy force feeding bcaa's down your throat, we are just telling you to buckle your seat belt.
1MR™ is an underground phenomenon. We didn't get here by tricking you into buying our product.